Join other industry leading companies in building the future of green energy apps
Our platform
Be the first mover in the future of energy
Enode's APIs enable you to instantly connect users' energy devices — including EVs, solar inverters, home batteries and thermostats — to your app. You can surface data, and then take action with it. Our out-of-the-box algorithms allow you to control and optimize your users' energy devices.
A few lines of code will save you months of integration and ongoing maintenance. We cut the cost and complexity of building energy management apps, so you can focus on what matters: creating user-centric experiences that drive engagement, and accelerate the transition to a sustainable energy system.
1

connection handled by you

55+

connection handled by Enode
By developers, for developers
A single API for hundreds of energy devices
Access and control 400+ energy devices with a few lines of code. Save months of integration and ongoing maintenance.
A single RESTful API for all connections
Web and native SDKs for hardware connection
Enterprise grade security by design
Read our docs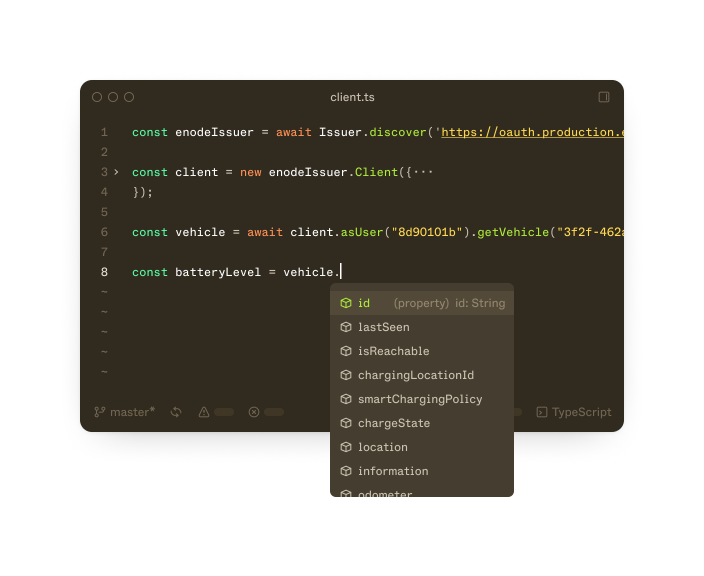 Why Enode
Join other industry leading companies to accelerate green energy
The energy system of the future will include millions of connected energy devices. Those energy devices will be able to intelligently respond to fluctuations in renewable energy supply, so we can build and balance a sustainable grid. But they can only do that if all the nodes in the network – devices, energy apps, consumers and the grid – are connected, and able to speak to each other in real time.
At Enode, we deliver the infrastructure to control energy devices through apps, and optimize them for both consumers and the grid.
About our company
60+ million

Energy customers reached

300+

Energy devices supported

100GWh+

Managed through the Enode platform

25%

Average savings using Enode's Smart Charging
Energy retailers

Create energy super-apps that increase retention and unlock revenue from flexibility markets

Energy startups and apps

Build market-leading energy apps that connect directly to your customers' energy devices

E-mobility providers

Surface real-time EV and charging data from multiple OEMs in your app

DERMS

Create residential DR programs with direct access to customers' EVs, thermostats and more

EV fleet managers

Access real-time SoC and location data for your entire fleet, at a fraction of the cost of OBD

Utility and grid owners

Use aggregated EV data to anticipate grid constraints and build demand response programs at scale

Smart home providers

Integrate EVs, thermostats and other energy devices into your solution, no hardware hub required

Don't see your industry?

We partner with companies across the energy ecosystem. Reach out to see how we can help you lead the transition to a sustainable energy system.